Ref:
Date:
Location:
Photographer:
Ref:
Date:
Location:
Photographer:
December 2016
David Colwell C3 chairs

We are delighted to have again been working with design legend David Colwell.
The latest project has been to produce 50 of David's C3 stacking chairs from the Trannon collection.
These chairs are destined for a gastro-pub in Dublin which specialises in ale and offal!

Here they are in our workshop just prior to despatch.
November 2016
Turner range.

In 2015 we were approached by recent design graduate Charles Dedman at our stand at designjunction.
Charles strives to produce 'contemporary honest furniture, which takes an evolutionary rather than revolutionary approach to design'.
In the last year we've worked with Charles to develop his Turner range; an armchair, a side chair, two stools, and an elegant dining table.
November 2016
William Warren's stacking Windsor

William Warren set himself the seemingly impossible challenge of designing a Windsor armchair that can stack. After several try-outs he brought us a prototype - we have now made a set of four. They are an extremely comfortable chair and - they stack!
An ideal chair for bars and restaurants, as well as the home, we are now all set to put this ingenious design into production.
August 2016
GREAT Chair Project

Katie Walker Furniture has joined forces with Sitting Firm Chairmakers Ltd to produce a new chair design for the meeting rooms of the GREAT campaign at 10 Downing Street.
There will be eight chairs in Walnut with an upholstered seat, and they will be used at meetings between MPs and Ambassadors and foreign politicians and heads of business and the creative industries from around the world.
August 2016
The Estate Chairs

Recently we were contacted by a furniture-maker from Norfolk who brought us an old Windsor chair, dating from about 1750, from a large country estate.
It's painted green, as many chairs were at that time when used as outdoor furniture. He asked us to make an exact copy, which we did, in ash (pictured right). Now we are making a full set of twelve, for use as garden furniture at this stately home.
April 2016
The Wilson Bench

We have been working with designer Chris Eckersley who was commissioned by The Friends of the Wilson to design a public bench for the new foyer at Cheltenham Art Gallery and Musuem (now renamed The Wilson). The bench references Arts & Crafts Movement
construction while remaining completely contemporary.
We sourced the ash timber from a wood in Herefordshire, and the elm for the seat came from a sustainable plantation in Scotland.
March 2016
Katie Walker footstool

We have been working with designer Katie Walker to produce a matching footstool for her award-winning Windsor Rocker.
This has just been launched by Heal's at their store on Tottenham Court Road, and makes the perfect complement to Katie's classic rocking chair.
February 2016
The Larder Fitzroy Place

We have been working with designer Samuel Wright of And Then Design to provide wooden table tops, and seats and backs for chairs for The Larder at Fitzroy Place - the "new neighbourhood café and store" located in the heart of Fitzrovia.
White powder-coated steel frames have our walnut timber; our black ash is combined with the black frames.
January 2016
Nottingham Trent University
Our MD and master-chairmaker Dave Green has been working on a 'live project' with staff and students on the BA Furniture Design course at Nottingham Trent University.
After a visit to Sitting Firm's workshops, students have been busy making scale models of their own designs for chairs.
Dave will be giving feedback and - maybe - one chair might make it into production.
November 2015
Original BTC
We have been invited by leading lighting brand Original BTC to produce a series of wooden bases for their Cecil collection. Using Original BTC's trademark of blending the finest materials, the Cecil Table Lights have either a narrow or cone shaped wooden stem, in a range of beautiful wooden finishes - cherry, walnut or oak. Each light has an intricate, pleated bone china shade and a braided flex, which complements the wooden base perfectly.
October 2015
Albert's Schloss

We have worked with designer Peter Masters to produce 72 barstools and 16 oak chairs for Albert's Schloss - Manchester's "friendly Bohemian Bier Palace".
With all the refined comforts of a German manor house - from roaring fires, to bespoke Alpine wood furniture, and Bavarian beers - the palatial Albert's Schloss is set to open on October 18.
June 2015
Stix sofa for Ian Archer
Ian Archer describes this project by saying: "I have been working in collaboration with British makers Sitting Firm using traditional steam bending and spindle moulding techniques and I wanted to adapt these craft methods into a design suitable for contemporary living. Inspired by Windsor chairs, I exaggerated the scale of the steam bent back and arms to give an elongated sweep of wood."
May 2015
Noah for Ocee Design

We have been working with young designer Samuel Wright and Ocee Design on Noah.
There is a rocker, a chair and a two seater sofa, as well as a solid wooden table. You can choose solid wood frames in either Black Ash or Oak, all with premium quality high density foam and premium quality webbing.
Noah will be launched this month at Clerkenwell Design Week.
April 2015
Daniel Schofiled's Department Tables

We have been working with designer Daniel Schofiled to help develop his Department occasional table.
The table has been designed to offer different areas for the various objects found on coffee and side tables. By identifying what objects people tend to use in conjunction with these pieces, Daniel was able to accommodate them within three turned surfaces, each offering subtle differences to adapt to the objects placed there.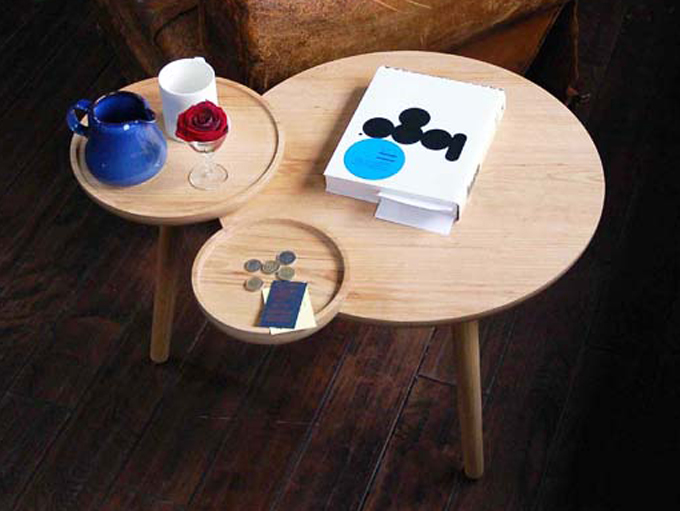 February 2015
The Great Heal's Bodging Race

For their annual Modern Craft Market in 2015, Heal's invited Chris Eckersley and the Bodging Project to stage a chair-making event in their front windows on Tottenham Court Road.
The event took the form of a race to see who could make the best chair prototype in five days. Sitting Firm were pleased to sponsor the event by providing necessary timber and components. Koji and Noriko Katsuragi came over from Japan specially for the event, and Bonner Leather Studio were on hand to help with seating.
December 2014
Eden range for Cintique

We have been working on a range of lounge furniture - called Eden - for Britiish furniture brand Cintique.
The range includes upholstered single and two-seater ash-framed chairs, and a choice of two rocking chairs.
Eden is a development of Chris Eckersley's Arden dining chairs, and will be launched at the AIS Furniture Show, which runs from the 12th - 14th January, at Cranmore Park in Birmingham.

November 2014
Janes UK

Our ongoing collaboration with James UK continues; we are now making their Holton range, and their Wingback, Lucan, and Aiken chairs and 2-seater sofas.
James UK is an award winning, contemporary British furniture brand launched in 2006 and headed by James Harrison. They produce unique, high end, design-led furniture and interior products with a distinctive focus on quality hardwoods and upholstery.
October 2014
Avery barstools for Pinch

Following the successful launch of the Avery chairs earlier in the year we have again been working with Russell Pinch who has designed a barstool to add to the range.
Pinch is the multi award-winning collaboration between husband and wife team Russell Pinch and Oona Bannon, based in Clapham, London.
August 2014
Katie Walker's Windsor Rocker.

Katie Walker's Windsor Rocker is now available through Heal's - the prestigious London furniture store on Tottenham Court Road.
Heal's have commissioned a short film of us making this iconic design.
May 2014
Avery Chair

We are very pleased to have been working with Russell Pinch who has designed a new chair for us to produce. The Avery chair was launched at Clerkenwell Design Week and is available as a side chair or armchair.
Currently the first batch is in production and will be available from the Pinch website in July.
February 2014
Our Man in Shanghai
We are delighted to have been working with Bob Verheijden, Course Director of Interior Design at Coventry University, who is currently in Shanghai to launch two pieces of furniture that he has designed for the University's planned PHNIX Collection.
Design Shanghai runs from 27th February until the 2nd of March.
The PHNIX Chair can be developed into a large family of symmetric and asymmetric chairs.
February 2014
Pembroke Love Seat

After the successful launch of Sarah Kay's Pembroke chair - which was developed from a chair Sarah made at the second Bodging Milano project - we have again been working with Sarah to produce a two-seater version, or 'love seat'. This beautiful seat can now be ordered via Sarah Kay's website.
January 2014
Heal's Deconstructed Windsors

Designed exclusively for Heal's by William Warren, we have made the first production run of Deconstructed Windsor for launch in January 2014.
The structure of each piece in the collection is broken down to create an original, dynamic form. The emphasis is on the legs - no matter the angle, they all bear weight and mutually support each other.
October 2013
Cornwall Chair

Designed by Chris Eckersley from a prototype he made at this year's Great Windsor Chair Race, and then developed on a trip to Cornwall, we have been working with Chris to produce the production version of this elegant chair. Each chair is hand-crafted in English Ash, and is available through Chris's website,
and at Liberty & Co, London.
August 2013
50 chairs for The Wild Rabbit

We have just completed a set of fifty chairs - all slightly different - designed by Chris Eckersley for Lady Bamford's new pub and restaurant The Wild Rabbit.
The design brief was that the chairs should have a look of what the French call jolie laide and the fifty variations were produced as a numbered edition.
The Wild Rabbit have subsequently ordered another twenty chairs for their private dining room.
July 2013
A chair collection for John Lewis

Sitting Firm's MD Dave Green has been commissioned by the John Lewis Partnership to design an exclusive range of Modern Windsors, which will be on sale in every John Lewis store. And made, of course, here in our own workshops.
February 2013
Horseshoe Chair by Steuart Padwick

We are pleased to have been working with award-winning designer Steuart Padwick on the manufacture of his new Horseshoe chair.This is a solid oak chair with a dramatic angled back, yet is strong and secure to sit in. Thanks to the low back these chairs will slide right under most dining tables and desks. Available via Steuart's website.
February 2013
A Jubilee Chair for
HM The Queen

Early in 2012 Sitting Firm were commissioned by the Royal Forestry Society to design and make a unique Windsor chair to mark Her Majesty the Queen's Diamond Jubilee.
Dave Green designed the chair taking his inspiration from one of the earliest surviving comb-back Forest chairs, dating from 1725.
The chair was presented at Buckingham Palace on February 12th 2013 and received by Deputy Master of the Royal Household Edward Griffiths. Dave took the chair down to London in the back of his car and was invited to lunch at the Palace. He then spent about 45 mins chatting to The Queen who said she was delighted with the chair and would be using it at Sandringham.
October 2012
Katie Walker's Windsor Rocker

Katie's design for a contemporary rocking chair was the winner in the furniture category at the prestigious Wood Awards, 2011. Subsequently we have been working with Katie to produce this chair using a single continuous band of steam bent ash. The chair is in English Ash with a white oiled finish and is available from Katie Walker's website.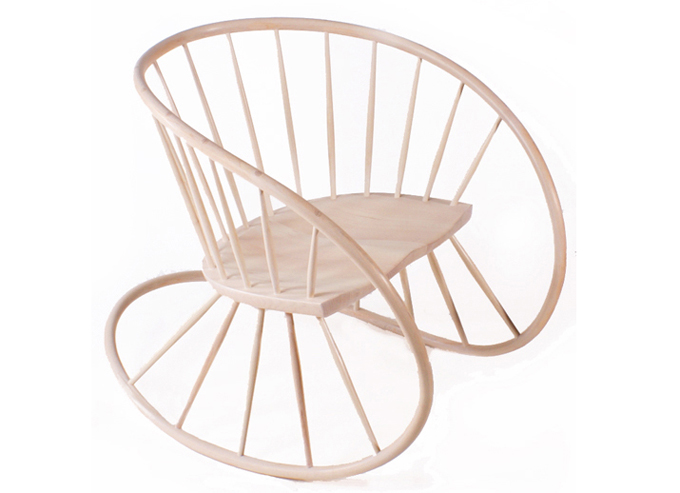 October 2012
A bench for the V&A

We have spent the last few months making a bespoke bench which was designed by Gitta Gschwendtner for the Victoria and Albert Museum's new furniture gallery. Gitta's design takes elements from chairs in the V&A Collection, and mixes up the seats' legs and backs above and below a 'U'-shaped seat. Every detail was carefully measured by Sitting Firm's Dave Green, who described this commission as 'possibly the most challenging job we have done'.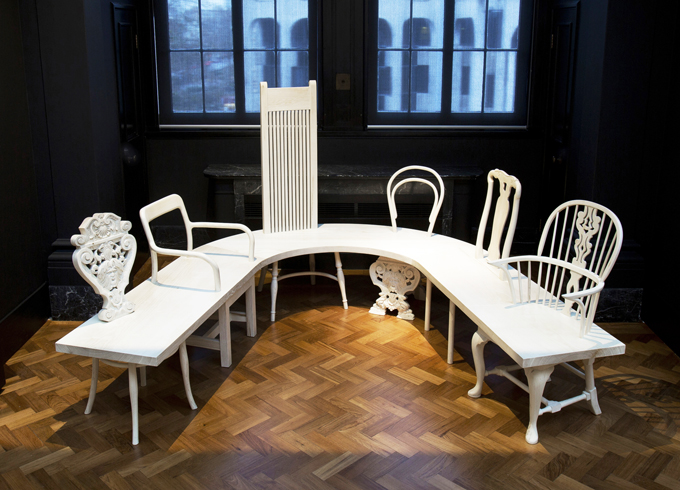 August 2012
Assembly Room in the Falklands

London-based interior designers Assembly Room were asked to design and supply chairs for a hotel on the Falkland Islands and we have worked with them to produce these stacked dining chairs. The photo shows them in our workshop, prior to polishing and upholstery.
Called Long Eaton, the chairs are made in FSC Walnut and Oak.
July 2012
A visit from Koji Katsuragi

The great Japanese chairmaker Koji Katsuragi was invited over by Chris Eckersley to join his Bodging Milano 2 project which has just taken place.
Chris brought Koji to see our factory and we're delighted to announce that we will shortly be making three of Koji's chairs under license for sale in the UK.
(right) Koji and his wife Noriko discuss the design with Dave Green.
April 2012
Spade Chair by Faye Toogood

We have recently been working with designer Faye Toogood on the production of her Spade chair.
Fifty of these chairs have just gone off to the Milan Furniture Fair as part of an installation created by Faye to induce well-being among over-stressed visitors to the exhibition.
July 2011
The Achair by David Colwell

We have spent the last month working with designer David Colwell to produce forms and jigs for the steam-bending of his new Achair. David has spent a llfetime researching ecologically based design. By looking at the latest in sawing technology, the most energy intensive bits of the making process have been removed, saving about 70% on energy, but retaining the benefits of craftsmanship Achairwon the 2010 Wood Awards Innovation Prize.
July 2010
Cov-Bodge

We have just hosted Cov-Bodge - an experimental workshop at out factory where we invited the participants in the Bodging Milano project to join us for an intense three days of Windsor chairmaking.
The eight designers between them made thirteen prototypes, some of which we expect to put into production.
June 2010
Log Bench by Chris Eckersley

After a passing remark by design writer Barbara Chandler that a sticked log we had at an exhibition could make a great garden bench if 'hollowed out', we worked with Chris Eckersley on this innovative garden seat.Chris marked out the profile on each layer with chalk, Dave Green cut the shapes, and the Sitting Firm team shaped the seat.
We are now producing individual benches to order, and. please phone for prices.
April 2010
Bodging Milano

Last year Chris Eckersley went 'bodging' (a.k.a. green woodworking) in the ash woods of Herefordshire.
He told Rory Dodd from Designersblock about it, and Rory said 'that would make a great exhibition in Milan.' So earlier this month Chris, Rory, Dave Green, Suzanne Barnes, Gitta Gschwendtner, Amos Marchant, Carl Clerkin, William Warren and Gareth Neal met up for a week of back-to-basics chairmaking. The results have just arrived at the Milan Furniture Fair.
April 2009
Arden Dining range in Milan

We have been working with designer Chris Eckersley who we met last year and who has suggested we produce some contemporary Windsor chairs.
Chris has designed the Arden table and chairs which we are launching (right) at the Milan Furniture Fair as part of the exhibition curated by Designersblock.

April 2007
Sugawara Educational Foundation, Japan

In September 2006 we were approached by Steve Evans who was working on a educational foundation project with Munehiko Kawaguchi in Japan. We joined the project and subsequently designed and made traditional chairs and tables for the Foundation. In all we made 22 monks' tables with 44 benches; 10 small pedestal table; 34 Georgian sidechairs; and 25 Cabriole leg stools. We also made a carved plaque for the opening in April 2007.